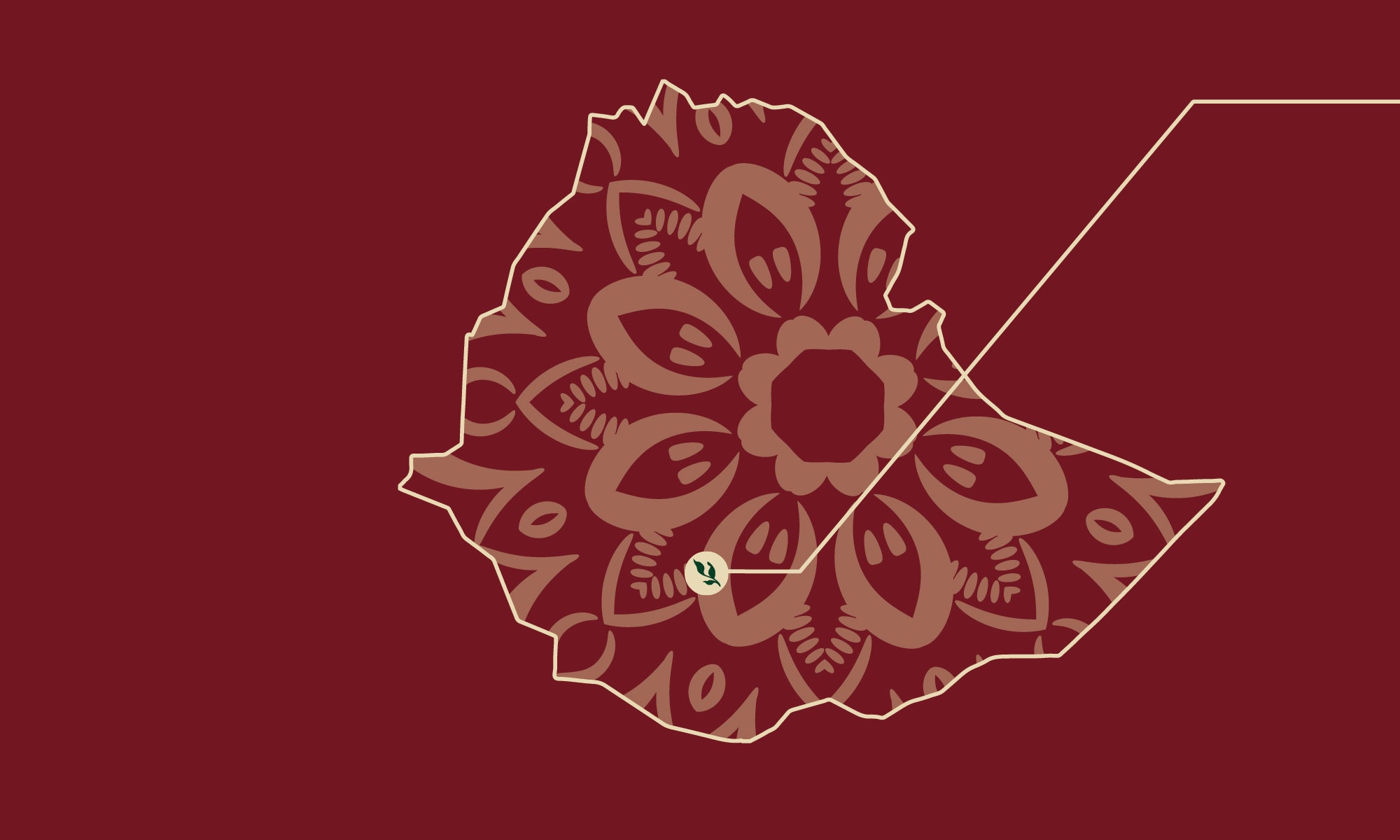 ETHIOPIA
COOPERATIVE | LAYO TERAGA
LOCATION | Sidamo Region, Africa
MEMBERS | 1966+/- Members (1,589 Male & 407 Female)
MASL | 1800 - 2200
LAYO TERAGA is a cooperative within The Oromia Coffee Farmers Cooperative Union (OCFCU) in the Sidamo region of Ethiopia, providing loans & financial advice to women to help them establish alternate sources of income. This approach encourages more gender equality and protects families from being over-reliant on the coffee trade. They have completed education-based construction projects that benefit over 30,000 people and offer scholarships to selected children of co-op members to enable them to continue their studies.
Layo Teraga's farmers produce coffee at a very high altitude between 1800 - 2200 metres above sea level which produces very high quality and fruity flavoured coffees. There are 1,996 members of the Layo Teraga Coop that combined cultivate 40 hectares of coffee. The region where the coffee is grown is a drier climate than Yirgacheffe and the shade is phenomenal. This would be considered semi-forest in Ethiopia, but essentially this coffee is grown under a full shade canopy. The lot is washed at the Layo Teraga Washing Station.
Three hours southeast of Yirgacheffe in the Oromia region of Southern Ethiopia, Uraga is a special woreda (District of Ethiopia) that serves as home to the Layo Teraga cooperative. Run by some of the most animated and enthusiastic people we came across during recent Ethiopia travels, it comes as no surprise that this coffee sings with complexity and character every time it lands on our cupping table. 
Ripe coffee cherries are disk-pulped and fermented for 48 hours before they're dried on raised beds. One of the hallmarks of great Ethiopian coffees, it is to this thorough process that coffees like Layo Teraga owe their cleanliness and delicate complexity.
The objectives of OCFCU are:
-To empower Ethiopian coffee farmers to negotiate higher prices in their local market.
-To improve farmers' incomes by exporting their coffee directly, at higher prices.
-To provide member farmers and clients with reliable service.
-To improve the social condition of farmer, by assisting them to access social services such as better schooling opportunities, better health services and clean water supply.
-To improve the quality and productivity of Ethiopian coffee.